Six books is a pretty good number for me. I already upped my
Goodreads
goal from 32 to 45, but I'm already at 39, so I think I made the goal too achievable. I'm not going to change the goal number, but I'm just going to read as I normally do and see where it takes me. Here's to hoping I reach 200 books read! Just kidding.
Love Fortunes and Other Disasters
★★★
★
★
(4
out of 5)
Written by Kimberly Karalius; love is real in the town of Grimbaud. Every year, people go to Zita's famous Love Charms Shop to get their accurate love prediction for the year, but when Fallon gets a horrible fortune that says she will never find love she decides to take control of her own fate.
This book is really cute and charming. If you're looking for a sweet summer read, this is the book for you. I liked how in Grimbaud love fortunes and charms (not just for love, but for everything from the weather to making yourself brave) is a real thing. I liked Fallon and Sebastian's cute love story; even though it was predictable it just still nice to read. One thing I didn't like was that this book tended to get slow at times.
Add this book to your Goodreads
The Wrath and The Dawn (#1)
★★★
★
★
(5
out of 5)
Written by Renee Ahdieh, this is a reinterpretation of A Thousand and One Nights where a king takes a new bride every night and every morning she is executed at sunrise. 16-year-old Shahrzad volunteers to be Khalid's new bride, but vows to live more than one night in order to exact revenge on him for murdering her best, but she finds that things are not as they seem.
Wow! I absolutely loved this book because Shahrzad and Khalid felt so real. Shahrzad especially could jump off the page; she's intelligent and stubborn and charming in her own way. The prose is like poetry because it's so beautiful and added color to the story. I just had to keep reading to know what would happen.
Add this book to your Goodreads
Ten
★★★
★
★
(3
out of 5)
Written by Gretchen McNeil, this book is about 10 teens, a party, an isolated island, and a murderer. Ten teenagers are invited to a party at a friend's house on a remote island, but one by one they're killed off and have to figure out who's behind it all.
Since I love And Then There Were None by Agatha Christie and the TV show Harper's Island, I thought I would like this, but sadly this book didn't live up to expectations. It's not a bad book, but it's also not very good either. It's way too predictable and not very thrilling and I didn't care about any of the characters much.
Add this book to your Goodreads
Nimona
★★★
★
★
(4
out of 5)
Written by Noelle Stevens, this graphic novel is about Nimona, a shapeshifting sidekick, who teams up with Lord Ballister Blackheart, a villian with a vendetta. They two of them wreck havoc on the kingdom and are out to prove that Sir Ambrosius Goldenloin and the Institution of Law Enforcement are the heroes everyone thinks they are.
I read through this so fast that I was depressed when it was over. This book is laugh out loud funny, adorable, witty, heartwarming, and awesome. The thing that I loved best was how gungho Nimona was to cause havoc and how Ballister how to keep her in check. The two of them are a unique little team and I wish this was a series.
Add this book to your Goodreads
Yes Please
★★★
★
★
(4
out of 5)
Written by Amy Poehler, she offers a small look into her life, both past and present: how she got her start doing comedy, her time at the Upright Citizens Brigade and SNL, what it's like to be friends with Tina Fey, and mor

e, all while making us laugh.
This book is absolutely hilarious! I listened to the audiobook because Amy Poehler reads it herself and has guests, like Patrick Stewart and Seth Meyers. She's so candid about everything from her comedy to her family to sex and I literally couldn't stop laughing. Do yourself a favor and listen to this.
Add this book to your Goodreads
Jackaby
Written by William Ritter, Jackaby is a mash-up of Sherlock and Doctor Who. He's an investigator of the unexplained and has the ability to see supernatural beings that no one else can. Abigail Rook, his new assistant, helps Jackaby track a serial killer that is one the loose.
On the one hand I really liked the characters and thought they were all fascinating, but on the other hand I found the plot boring. I liked how this book is a historial supernatural mystery and Jackby's hidden world of strange creatures is really cool, but I didn't care about the murder mystery. This is a series, so I would consider reading the second if the plot sounded intriguing.
Add this book to your Goodreads
The Fold*
Written by Peter Clines, The Fold follows Mike, a highly intelligent man with an eidetic memory, who gets swept up into analyzing a secret project by a friend. This project is called the
Albuquerque
Door and it "folds" distance, so that the travel can walk thousands of miles in a single step, but the Door isn't completely safe and the creators are hiding a terrible secret.
I couldn't stop reading this. I HAD to know what was going to happen next. I was invested in the story and the ragtag group from the start. I liked Mike especially because he's straight to the point but not cold and he makes the story interesting due to his eidetic memory.
I had an inkling where the story was going and I was right, but it didn't make it any less fun and enjoyable. I breezed through the first 2/3 of the novel and absolutely loved it, but I had issues with the last 1/3. It's not that it wasn't compelling, I just wasn't a fan of where the story went. It also raised more questions that never got answered.
Despite the frankly strange end of the book, overall I found The Fold to be gripping, exciting, smart, and cool.
Add this book to your Goodreads
*I received a free copy of this from Blogging for Books. All opinions are my own.
a Rafflecopter giveaway
#PotterWeek
continues! For today's
Common Room
prompt I decided to share my
Harry Potter
wishlist. What I really, really want to get is Hermione's wand because I went to the Wizarding World of Harry Potter two years ago and regret not getting the wand while I was there. I also want the Hermione Funko Pop, so that she can hang out on my shelf with Belle, Alice, Ana, and Dancing Groot. Also, how great would it be to have your room smell like Dumbledore's office?!
My wishlist:
♥
"I solemnly swear" T-shirt
♥
Book Titles Poster
♥
"Mishcheif Managed" Decal
♥
Glasses Ring
♥
Hufflepuff Scarf
♥
Headmaster's Office Candle
♥
Hermione Funko Pop
♥
Hermione's Wand
♥
"Until the Very End" Wall Hanging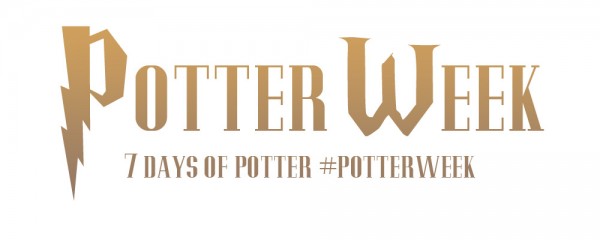 #PotterWeek
What did you read this month?
What's on your Harry Potter wishlist?